PHIL WHEDDON | Bio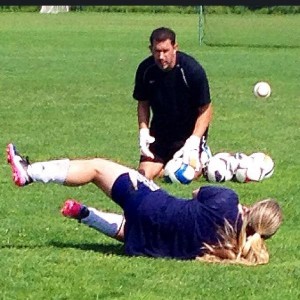 From the World Cup to the Olympics, Phil Wheddon has enjoyed success at soccer's most prestigious events. He helped guide the United States to consecutive gold medals, including the 2008 crown in Beijing. Wheddon brings a wealth of experience at the youth, collegiate, professional and international levels to everything he does in goalkeeping and soccer.

Since 2002 Phil has worked with U.S. National Teams when he joined the women's coaching staff as the goalkeeper coach. He helped lead the team to a third-place finish in the 2003 FIFA Women's World Cup and the gold medal at the 2004 Athens Olympics.
In 2005, Phil became an assistant coach and goalkeeper coach with the U.S. Men's National Team, which won the 2005 CONCACAF Gold Cup and competed in the 2006 FIFA World Cup.
In 2007, he returned to his position with the Women's National Team and helped the squad to a third-place finish in the 2007 FIFA Women's World Cup. The U.S. Women then went on to reclaim Olympic gold medal in Beijing in 2008, defeating Brazil, 1-0, in the final.
Phil is the only coach to serve on the staffs of both the Men's and Women's National Teams and attend FIFA World Cups with each team.
Phil has trained some of the best goalkeepers in the world, including Hope Solo, Brianna Scurry, Tim Howard and Kasey Keller to name a few.
In 2000, he served as the goalkeeper coach for the NY/NJ MetroStars of MLS, which won the 2000 Eastern Division Title, before becoming the assistant coach for the Boston Breakers in 2001.
Phil has been a U.S. National Licensing instructor since 2001, teaching the National Goalkeeping License and other USSF courses for over a decade.
As well as being an instructor for the USSF, Phil holds his USSF A License and National Goalkeeper License.
Phil is currently the goalkeeper coach for the Philadelphia Union organization working at all levels of the club from first team to academy.
Interested in Private or Group Sessions?
Ready to Get Your Game On?